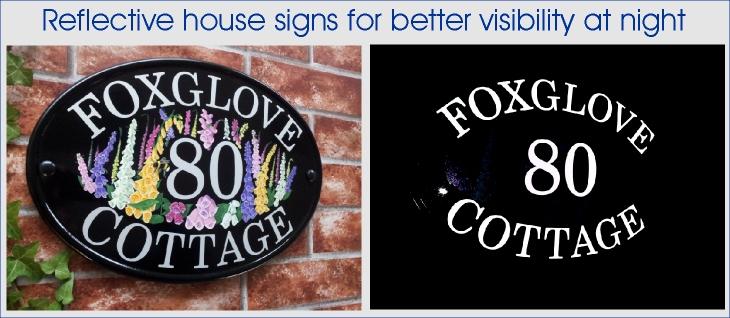 Reflective House Numbers & Name Plates
We have been making reflective house signs since 1995. They work in a similar way to the reflective sign writing on emergency vehicles. The white reflective text and numbers are not paint - they are actually made from a laminated layer of a silvered background with millions of microscopic glass beads which reflecting like microscopic 'cats eyes'. This layer is laminated flush to the surface of the sign and encapsulated in a clear weatherproof layer. When any light is caught by the reflective layer it returns the light back to the observer and so gives an illuminating effect which makes the house names or numbers far more visible in the dark.

It's Good to Know: Reflective house signs are endorsed by Paramedics, Fire Fighters and Police who frequently report wasting valuable time locating exact home addresses in the dark when quick response times are crucial.
The base plaques for all 'classic' & 'bridge top' ranges are made from a solid casting of marble powder mixed with a liquid polymer resin. When set in a mold the cultured marble is hard and weatherproof. These signs are offered in a choice of black, burgundy, green and blue background colours. There is also an option of having a gold painted outside rim. These products all carry a 7 Year Worldwide Guarantee.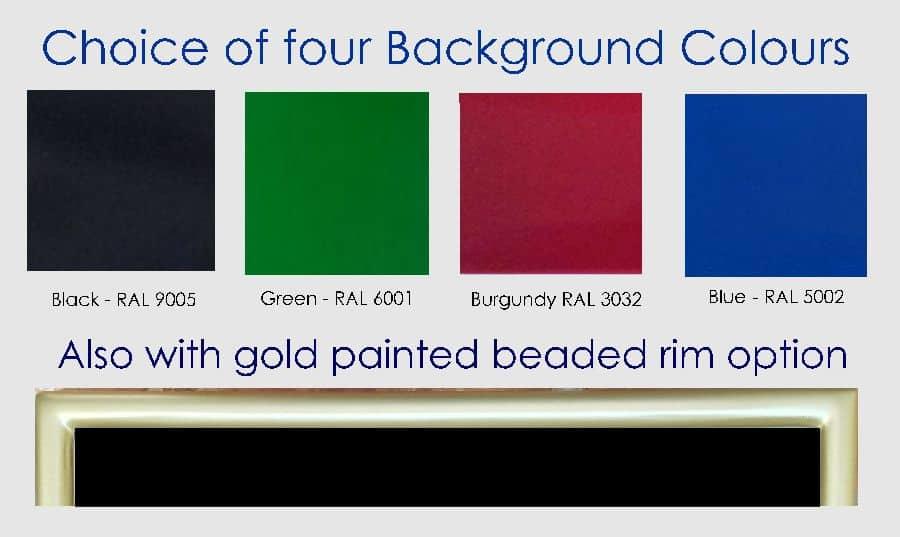 Our rustic slate style signs are made from a solid casting of powdered Cornish Delabole slate mixed with a polymer resin which when set in a mold is hard and weatherproof. These house plaques have a dark charcoal grey appearance with lighter grey chiseled edges. As with the above ranges, the rustic slate range all carry a 7 Year Worldwide Guarantee.
For the reflective ranges, we offer a choice of 21 different fonts to suit most tastes including period and country specific fonts. For properties that are difficult for the visitor to find and require directional signs, we also offer arrows on all reflective products.
Free proofs artwork with every order
We create professionally designed proofs for every order placed online or by telephone. House sign proofs are sent by email usually within two working days. You will then be able to approve the design or ask for alterations to the font, layout, colour or even the size. Once you are happy with the design and we have received your approval, we will then make your bespoke house sign.

Lead Times
Production of your bespoke sign begins once we have received your approval of the proof. Care is taken to ensure that each individual item receives the correct number of paint and UV lacquer coats and each coat is required to be fully cured before the next coat can be applied. The average lead time from approval of the design and dispatch of the order is normally 2 to 3 weeks.
Fitting Your Signs
Most of the products in our reflective range have a choice of fixing hole or hanging hole positions suitable for walls, posts, stakes and hanging chains or alternatively without fixings holes for suitable insetting into a wall. All products are provided with screws, wall plugs and screw caps to hide the fixings and keep them from weathering.
Please note:
We do not recommend or offer 'hidden fixings' but all of signs can be ordered without fixing holes and you can use builders like glue (Gripfill / No More Nails) to permanently fix to a surface. Please read our blog article about why we don't offer 'hidden fixings'.

Our extensive range of reflective signs are categorized in the 4 collections shown below. Click on each image to view the collection