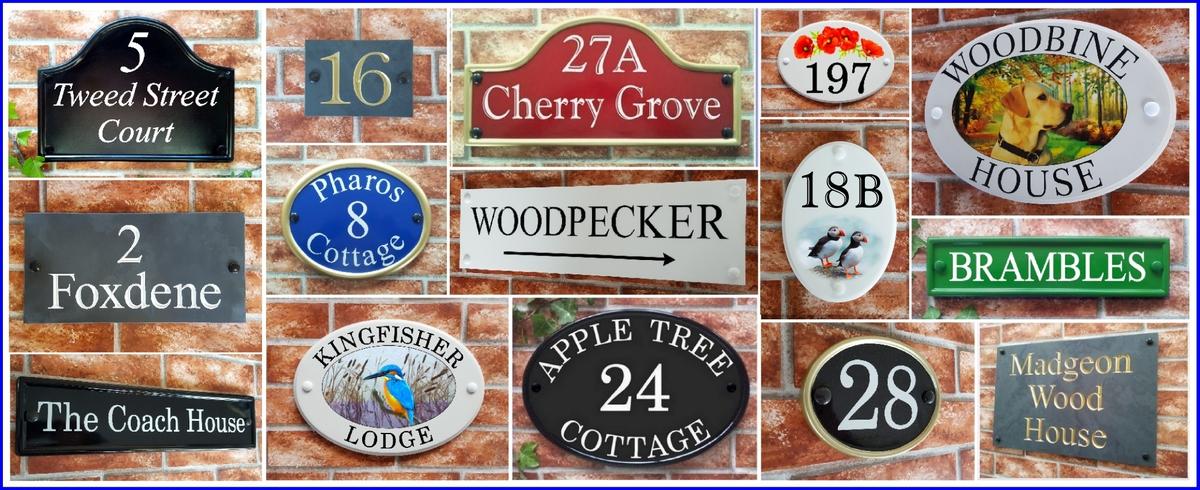 Personalized House Signs for your Home
Bespoke House Name Plates & Door Number Plaques traditionally handcrafted since 1995 by skilled UK Signmakers
Custom made House Signs offered in many shapes, colours & sizes. Selling our bespoke house signs online since the year 2000 we manufacture thousands of hand made signage products for properties every year and can ship them worldwide direct to your front door. All house numbers, name plates & address markers shown on this website are made exclusively by us at our Yoursigns Ltd workshops in Sandown on the Isle of Wight, UK. Please take a look at our ranges - you won't find them on sale by any other online sign company.
Find your ideal House Sign by viewing Categories or view our Full Collection of house numbers and house names all at once!
With a choice of over 20 fonts and many colour ways you can create a bespoke & personalised house sign to match the character of your home
View House Signs in Categories
Full Collection by Yoursigns Ltd

Yes, we have been selling our personalized house plaques from this website since the year 2000. Our company has been making bespoke house name and number plates
since 1995 and started selling them on the web in the year 2000. We have now got 26 years of sign making experience and 21 years selling our sign products online.

V-Groove Engraved Slate Signs
We only use traditional deep V-carve engraving methods in the production of our solid slate range. We consider this method to be the ultimate engraving method giving beautifully shaped house names and house numbers with a choice of inlay colours. Also available in bespoke sizes. Please be aware - most 'engraved' slate signs offered online are either shallow laser marked or sandblasted - not V-Grooved like ours.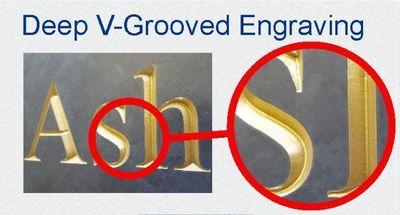 Reflective House Name & Number Plaques
This large & varied range is available in rectangular, oval and bridge top shapes and in a choice of black, blue, green or burgundy/red background colours. Ideal in badly lit locations the house numbers and lettering will shine up from a distance at night if a light is pointed at them. We can also offer Hand Painted Pictorials on a selection of our larger reflective house plaques.


Deep V-Grooved Engraving on White Signs
Our range features deep v-grooved numbers and house names in a choice of 7 different paint colour inlays. They are made from a solid surface material similar to Corian which is tough and durable outdoors and will never need painting. They are so tough we gaurantee them in any climate for 10 years!

g on

Directional Signs with Arrows
For difficult to find homes we offer house signs with various directional arrows to point first time visitors in the right direction to the property. Available on ALL products we make except on our smallest 100mm by 100mm single digit engraved house numbers.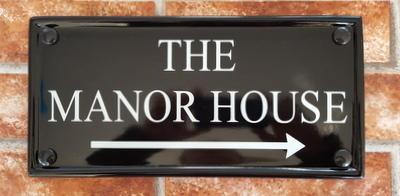 Professionally designed Proofs
No need for you to spend hours online designing your own house sign - we do it for you!
When you place your order our expert designers get to work and create an initial scaled mock-up proof of your order and send you an email link to view it. You can either approve the proof or ask for any alterations including change of font, colour, actual text or even size and shape of house plaque.
This way you can see exactly the style of the house name or number plate we are going to make for you and you are not committed with the limitations of an online designer tool.

WHAT OUR CUSTOMERS SAY....
Over the years the vast majority of customers give us 5 Star reviews. We love to hear from customers after they have received their signs via the reviews feature on this site. Reading these comments makes us proud of our company, products, staff and customer service. To read the reviews simply click on the reviews tab on each individual product page - you can also leave your own review there once you receive your own sign.
OUR LATEST CUSTOMER REVIEWS

"I received the house sign yesterday. On opening the packaging I was pleased at the first class quality for the price I paid. The sign looks much better than the proof. The 'V' shaped engraving looks really smart and shows our house name superbly. Thank you to all the team a Yoursigns, I will certainly recommend you to my friends and family. Many thanks, "
Graham Whitehead

"Good evening, We received our sign a few days ago. It is absolutely perfect and such good quality. Thank you for providing such a quality product and an excellent service. Kind regards, "
Catherine Rigby