Need to know how to give your house a name? - then read on...
Personalising your home by giving it a name is a relatively easy procedure although it is advisable to check with your Local Authority if there are any requirements for approval when the property is already numbered.
The general rule for naming your home is as follows: If your property has already been designated a number, you must always display the house number clearly within the boundary of the property and always use the house number in your address line. You can then also choose to use a house name that you like. For example if your house number is 20 and you decide to name your house 'Rose Cottage', the address line should always be as follows:

The Rule is different if your property already has an existing house name and NO allocated house number.
If you wish to change the name of the property, permission must be sought from the Your Local Council first. - You will need to notify your local council of your intention of changing the house name in writing before you can use the new house name for your address.
In the case of addresses where there is no number allocated, the registered house name forms part of the official address. - In this instance property owners wishing to change their property name should also put a request in writing to: Royal Mail Address Maintenance Unit, Sunderland, SR3 3XW, Email: addressdevelopment@royalmail.com AND also their local Council's department responsible for street naming and numbering.
The request should state your full name, the present full address of the property and state clearly the new preferred name. The property owner must contact the Royal Mail Address Maintenance Unit to see if the name is satisfactory, then the new address needs to be registered by the Royal Mail Address Maintenance Unit. If there is an issue with your preferred name, they will ask you choose an alternative name.
It is the responsibility of property owners to inform their own personal contacts and relevant council services of any official change or addition to address. Various councils have different rules and procedures to change an existing house name, so it is wise to first check on your local council website about their procedures and regulations before you order a house sign with your new chosen house name.
If a property in the local neighbourhood already has the same name that you have chosen, or if it sounds similar, you may not be able to use the house name because it could cause confusion to the post office, emergency personnel or council workers. - It is worthwhile just taking a walk around your local neighbourhood making notes of existing house names and thinking of several alternatives before applying to the Council. Some Councils charge a registration fee for their service and some don't.
Most UK local councils have a web page showing their house naming and street numbering policy. To enquire with your local council use this link to an alphabetical list of LOCAL COUNCILS
---
House naming in the UK – the rules in brief
Here's what you should do to add or change the house name on your property
If your home has already has a house number and no house name
Usually it is okay to just add a house name although it is always worthwhile having a quick check with your own local authority to find out if you need to seek approval. Use the link below to find the website of your own local authority for more information.
If your home does not have a number and you wish to change the existing house name.
You need to seek permission first from your own Local Authority.
To contact your local authority
Please use the following link to find your Local Authority details with the postcode checker.
https://www.gov.uk/find-local-council
All house name and number signs shown on this website are made by us here in the UK. You can view and order them in the categories below - click on any image to view details of that style of house plaque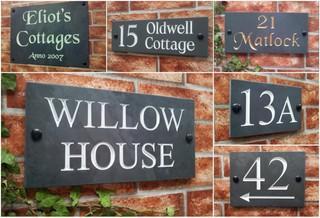 Slate House Signs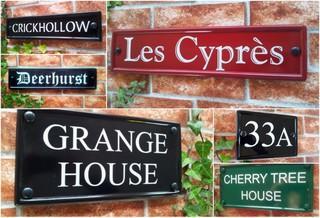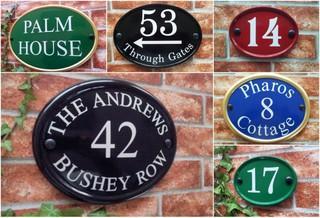 Round & Oval House Plaques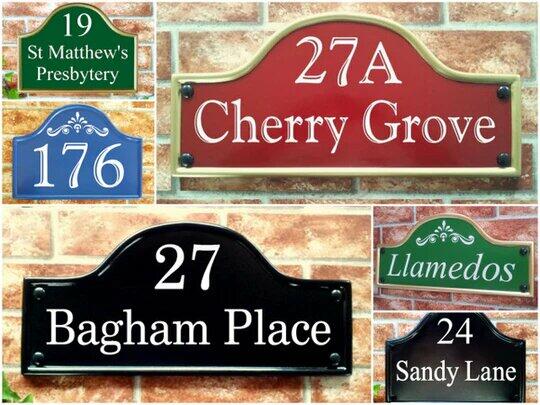 Bridge Top Range
From: £49.95
View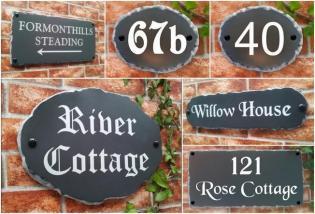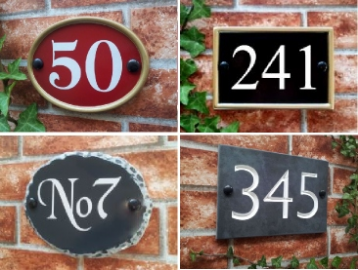 House Numbers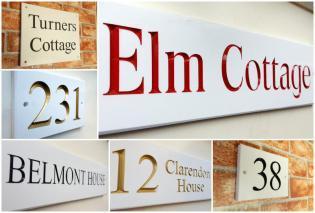 White Engraved Signs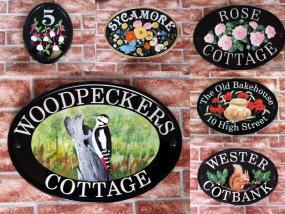 Hand Painted Pictorial Signs
History of House Names in The UK
Naming ones House is an old British custom which began with the gentry naming their manors, halls, and castles. The custom gradually spread to the masses and everyday folk began naming their homes as well. Traditionally the house name is based on who the house was 'tied' to or located at. For instance, the Lord of 'Evesham Manor' would have several properties tied to the estate. You might reasonably find Evesham Hall, Evesham Lodge, Evesham Cottages, The Gate House, The Dairy, The Barn, The Forge etc within walking distance of the Manor House.
Tradesmen and merchants also started naming their properties - Mill House, Forge Cottage, Wool Hall etc. Once the convention of house naming became the norm many other property owners followed suit by naming their house after distinguishing features within the boundaries of the house - Oak Cottage, Rose Cottage, The Pines, Orchard House, Meadow View etc.
Nowadays people name their homes from all kinds of inspirations. - The previous usage of the building inspires house names like The Barn, The Old Schoolhouse, The Old Rectory whilst some home owners name their house after well known beauty spots or places they have had happy holidays at like Ambleside, Windermere, Broadstairs, Sorrento, Santorini or Vermont. Other house owners choose features of their home like Red Gables, Two Chimneys or Grey Tiles. Sometimes the view from the property is used like River View, Mountain View, Vista Montenasa etc. Some home owners name their residence with terms like Serenity, Nirvana, Madhouse etc. Naming your home after animals usually seen around the property is also very popular - Badgers Cottage, Cuckoo Cottage, Curlew Cottage, Dolphin Cottage, Fox Hollow, Kestrels, Magpies, Mole End, Nightingale Cottage, Robins Nest, Rookery Nook, Squirrels Leap, Swallow Barn, The Jays and Two Hoots are all favourites.
Properties throughout the British mainland had just house names until 1765 when an act of Parliament decreed that all new properties must also have a house number and street name for better identification of properties and boundaries.

About House Numbers in the UK
Since the introduction of street numbering by act of Parliament in 1765, every house built in a town and city has a designated number followed by the name of the road it is located in e.g. 20 Salisbury Avenue. The first house in the road is number one and the last house is the number of individual dwellings or buildings in the street. The number identifies the location of a property in a road and so makes it easier for the postal service or emergency personnel to find houses.
Odd numbers are usually assigned to the left side of the street and even numbers to the right side heading out of the town center - usually from the town hall or other civic building. Many houses that have been added to a street since it had been given numbers would have been given a suffix instead. For example, next door to number 12 may be 12A and 12B as they where built on a parcel of land sold by the owner of number 12. Also a larger building may have been turned into apartments or flats which may be additionally numbered or given a suffix.
Even though each house has been designated a number it does not mean that we can't personalise our homes with a house name as well. We can't change the designated house number but we can add a house name or even change an existing house name if we want.
Latest top 50 most popular UK house names 2015 according to Royal Mail
This list shows the most popular words used in UK house names with the actual number of of properties listed with that word. For example, 'Orchard' is the most popular word which most likely would be combined with House, Cottage, View etc.
Orchard - 11894
Meadow - 11473
Rose Cottage - 11308
Holly - 8131
Oak - 8032
Willow - 7913
School House - 4323
The Willows - 4107
Sunnyside - 3982
Springfield - 3958
Corner - 3902
Highfield - 3873
Old School - 3012
Primrose - 2598
Mill House - 2526
The Old Rectory - 2500
Yew Tree Cottage - 2359
The Old Vicarage- 2216
Oaklands - 2077
The Old Post Office - 2060
Lilac - 1973
Honeysuckle - 1911
Hillside - 1779
Treetops - 1676
Woodside - 1515
The Old School House - 1482
Ivy House - 1249
Woodlands - 1158
Red House - 1037
White House - 743
Wayside - 741
Granary - 700
Lakeside - 549
Stables - 549
Toad Hall - 496
Haven - 483
Vicarage - 461
Fairview - 407
Laurels - 341
Thornfield - 311
Hillcrest - 310
The Barn - 298
Firs - 292
The Cottage - 260
Nook - 238
Coach House - 233
Clarence - 230
Beeches - 195
Highclere - 188
Gables - 172
Any house name makes a personalized statement about the property or the occupants of the house. House Names can be historic, sentimental, descriptive, humorous or simple. The most popular house name ordered on this website in 2015 is THE ORCHARD seconded by ROSE COTTAGE with MEADOW VIEW in third place - the most unusual house name we ever made was ZINKYBONKYBOO -
We asked the customers why they chose that peculiar name and they replied ' that's how we both felt when we got our offer for the house accepted.
The
shortest house name we have ever made is 'PI' which as in the mathematical constant

π

but spelled out as PI as requested by the customer.
Dunroamin or Dun-something are still quite popular house names ordered with us and house names made up of the first few letters of the Christian names of the occupants of the home like SAMBETH for Samuel and Elizabeth are ordered quite a lot. We have also made lots of housenames like COSTA PLENTY, COSTA FORTUNA and other plays with words like LLAMEDOS - read this backwards.
Whatever you decide to call your home, we are here to help show off your house name in style. Our house name signs can be customised as individually as you want with several colour options & choice of font to suit the name you have chosen