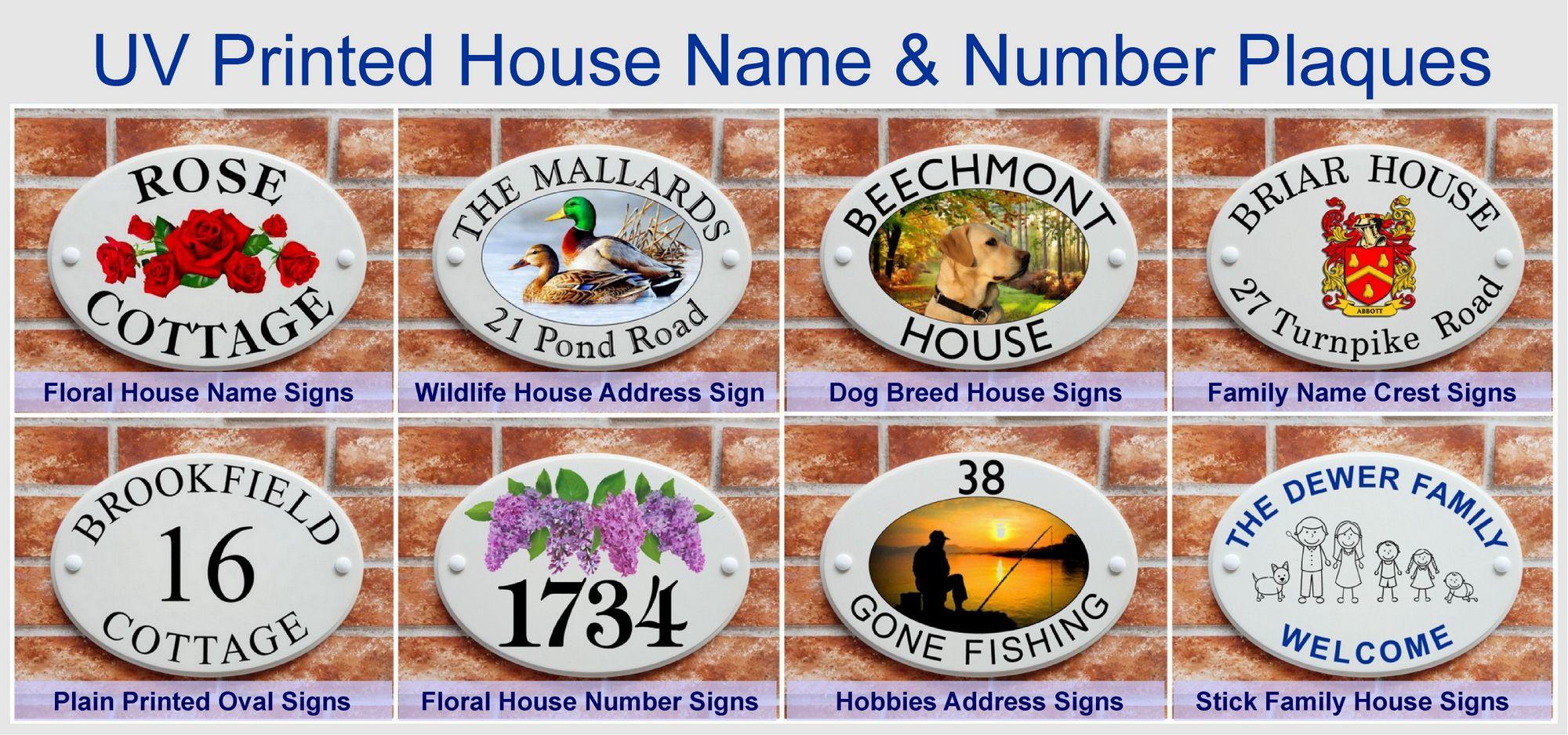 The pottery style range of products are hand cast in white cultured marble which has a creamy off white appearance and are also completely weatherproof. This range of house signs are printed with our UV resin ink flatbed printer. With this state of the art printing technology we can produce highly detailed weather proof signs ideal for outdoor (or indoor) home signage.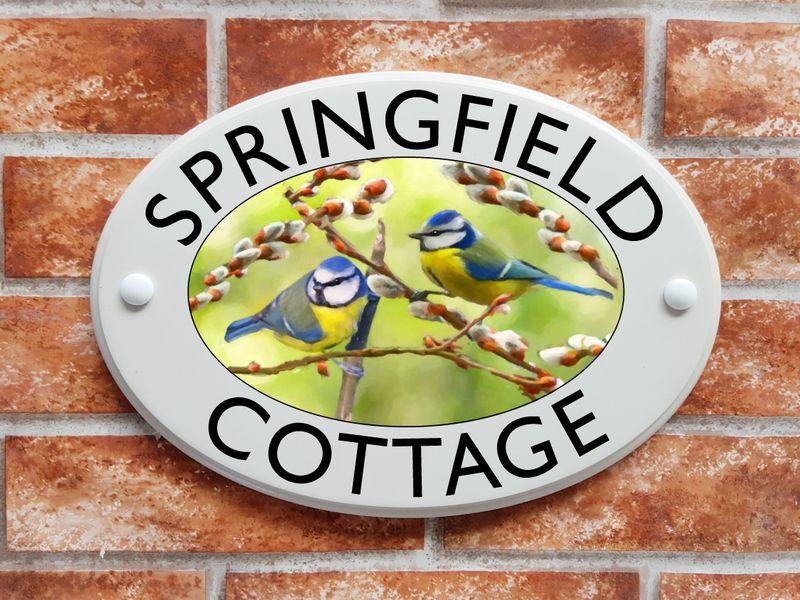 The colour prints are permanent, durable and even scratch proof. There is a vast choice of picture prints including, wildlife, pets, flowers, hobbies created by our own sign artists and stick family people. Family crests can be ordered with supplied artwork. Alternatively, we also make plain unadorned house signs with informative text and optional directional arrows. These house plaques are personalized to your own requirements with a choice of 7 fonts, black or blue text and / or house numbers and several different text layout options.
---
PRINTED ART PICTURE SIGNS

These artistic picture house plaques have a large choice of pictorials to choose from. The images are reproductions of various themes created by our own house sign artists. They have chosen many popular themes such as wildlife, flowers, dog breeds, hobbies, sports & scenic designs to adorn mainly the centre of the signs with text and numbers arching around the pictorials.

---
HERALDIC FAMILY NAME CREST PLAQUES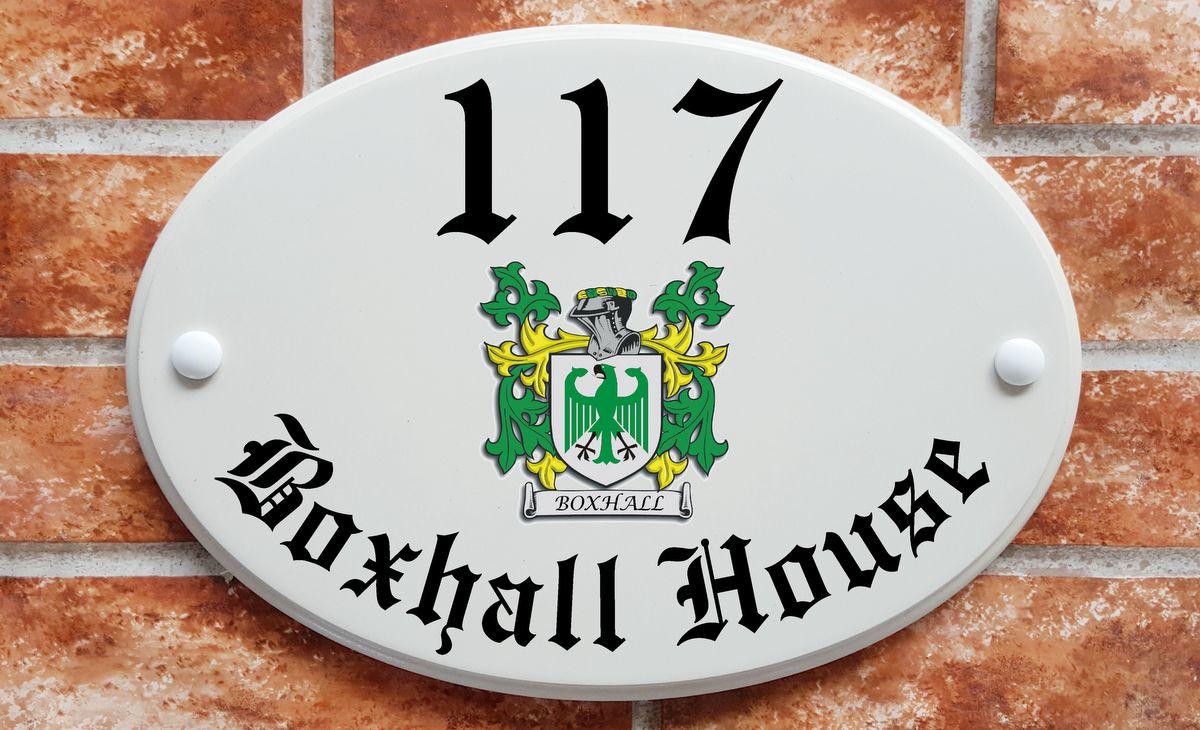 These heraldic family name crest house plaques are made to look like ceramic pottery but they are actually made fro cultured marble which is totally weather proof and will last outdoors for many years to come. The plaques are printed with UV resin inks giving vivid colours and crisp images of the family crest.


A great personalized gift for the family or for a wedding gift for the new couple with heraldic family name crests for both sides of the new couple printed on the sign.

---
STICK FAMILY HOUSE SIGNS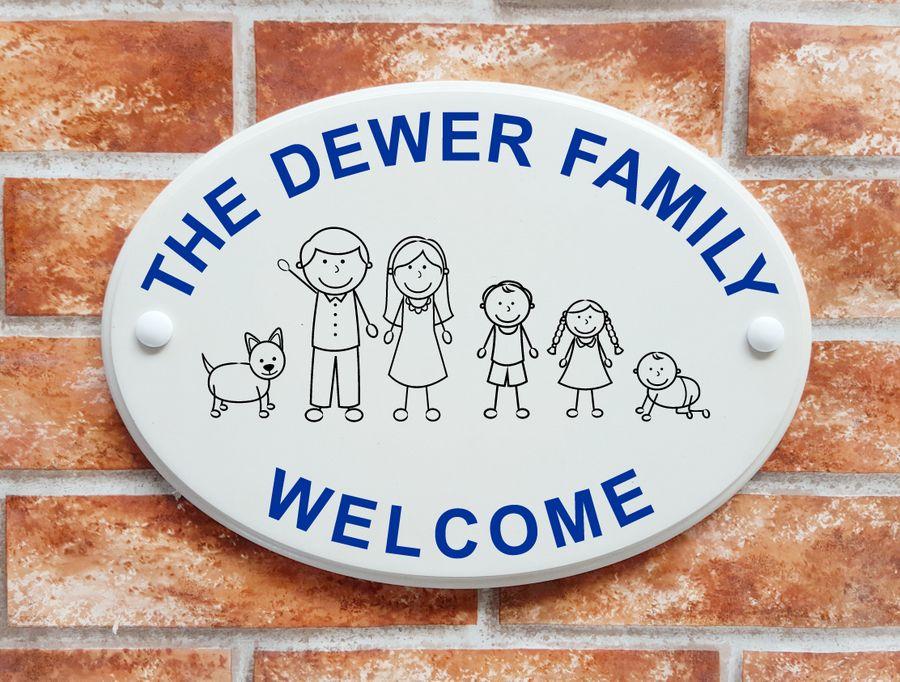 This collection of oval UV printed plaques feature a selection of cute stick characters which give a friendly welcome to any visitors to your home. Choose from many stick people including mum, dad, kids of different age groups, gandparents & great grandparents to create your own family. Also add common pets like dog, cat, birs etc. Two colours in four different colour way.


---
SIMPLE UV PRINTED HOUSE PLAQUES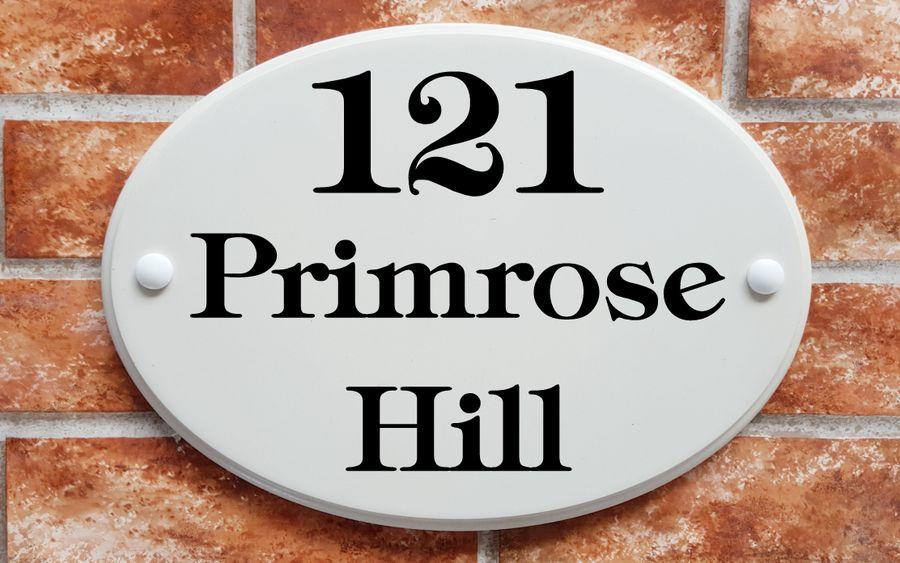 Our collection of simple oval shaped UV printed signs are hand cast in cultured marble which is completely weatherproof and withstands all the elements nature can produce. Come rain or shine, winter snow or summer sun the signs will show off your home address for many years to come.

House names & numbers are available in 4 print colours Black, Ruby Red, Forest Green & Navy Blue. We offer 21 different letter styles from different periods and several text layouts you can customize the plaques to suit the style of your property.



---